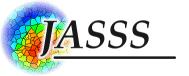 ---
Born in 1974 in France, Juliette Rouchier studied Mathematics and English literature at the University of Orleans. She then completed a DEA and a phD in Environmental Sciences. She specialised in the application of multi-agent simulations for environmental studies (Title of her thesis "Trust in exchange"). She now works at the centre for policy modelling (CPM) at the Manchester Metropolitan University and is involved in the FIRMA project, which builds a gap between multi-agent models and participatory approaches in water management.
Centre for Policy Modelling
Manchester Metropolitan University
Aytoun Building
Aytoun Street
Manchester
UK
Email: rouchier@ehess.univ-mrs.fr
Web: http://greqam.univ-mrs.fr/cv/rouchier.htm
Born in 1958 in New Zealand, Martin O'Connor studied physics and humanities in his native country and in Paris. After completing his PhD in economics (titled Time and Environment) at the University of Auckland, he was a Lecturer in Economics at the University of Auckland before taking up a professorial position at the University of Versailles St-Quentin-en-Yvelines in 1995. He has research degrees in physics, sociology and economics, and specialises in interdisciplinary work in ecological economics theory, development theory, environmental policy and social sciences epistemology. He is a member of the editorial advisory boards for the journals Capitalism Nature Socialism (CNS) and Environmental Values, and edits the interdisciplinary International Journal of Water (IJW, published by Inderscience).
Centre d'Économie et d'Ethique pour l'Environment et le Développement (C3ED)
Université de Versailles-Saint Quentin-en-Yvelines,
47 boulevard Vauban,
Guyancourt 78047 cedex,
France
Email: Martin.OConnor@c3ed.uvsq.fr
Web: http://www.c3ed.uvsq.fr/
François Bousquet is a modelling scientist with Cirad. He is focusing on the development and the use of Multi-Agent Systems for the simulation of renewable resource management issues. Through the development of a specific platform for building Multi-Agent Systems to simulate Common-Pool Resources systems, CORMAS, he has taken part in many experiments dealing with simulation and environmental management, mainly in developing countries.
CIRAD - Tera Ere
Campus Baillarguet, TA 60/15
73, rue Jean François Breton
34398 Montpellier Cedex 5
France
Email: Francois.bousquet@cirad.fr
Web : http://cormas.cirad.fr

© Copyright JASSS