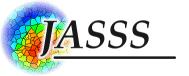 ---
Olivier Thebaud is an economist with Ifremer. His research focuses on the economics of natural resource management and environmental policies. Most of his applied work to date has centred on the management of marine and coastal ecosystems, in Europe and overseas.
IFREMER,
Maritime Economics Service.
B.P. 70. 29280 Plouzané.
France.
Email: Olivier.Thebaud@ifremer.fr

Bruno Locatelli undertook studies of engineering in water and forestry management in France. In 1999, he completed his PhD Thesis on the relationships between macroscopic factors and the local practices of natural resource management in Madagascar. He is now working within Cirad (www.cirad.fr) as an environmental economist. His main research interests are the international environmental agreements (climate change and biodiversity) and the tropical forests.
Cirad Foret
73 Avenue Jean François Breton
34398 Montpellier Cedex 5
France
Email: Bruno.locatelli@cirad.fr


© Copyright JASSS