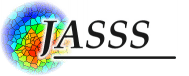 ---
Marco Janssen is a post-doc. in ecological economics at the Department of Spatial Economics of the Free University in Amsterdam. He is originally trained in econometrics and Operations Research and received a PhD from the University of Maastricht. He published a book on integrated assessment modelling and published numerous papers on climate change policy, energy modelling, evolutionary modelling and ecological economics. His main interest is to develop integrated models together with disciplinary specialists and apply those models for policy analysis.
Department of Spatial Economics
Free University
De Boelelaan 1105
1081 HV Amsterdam
Tel: +31 20 44 46090
Fax: +31 20 44 46004
email: m.janssen@econ.vu.nl
website: http://www.econ.vu.nl/re/medewerkers/mjanssen/marco.htm
Wander Jager works in the field of environmental psychology. Originally he was trained in the field of social psychology at the University of Groningen. He has published on a multidisciplinary approach for conserving energy and a multi-theoretical approach of consumer behaviour. Currrently he is finishing a PhD thesis on the simulation of consumer behaviour in the context of integrated assesment modelling. He is interested in the development and application of behavioural simulations on topics such as the management of collective resources, consumer choice behaviour and crowding.
Centre for Environmental and Traffic Psychology (COV)
University of Groningen
Grote Kruisstraat 2/I
9712 TS Groningen
The Netherlands
Tel: +31 50 3636482
Fax: +31 50 3636784
email: W.Jager@ppsw.rug.nl
website: http://www.ppsw.rug.nl/cov/staff/jager/jager.html

© Copyright JASSS